LTD QTYS of these Wide Tire 27.5/650B

Mountain bikes


Motobecane Fantom 2.5 27.5/650B Advanced Aluminum 27.5 Mountain Bikes
with LockOut Forks, FULL SHIMANO 3X8Speed + Shimano Hydraulic Disc Brakes, 2.5 inch Tires

Click to see enlarged photo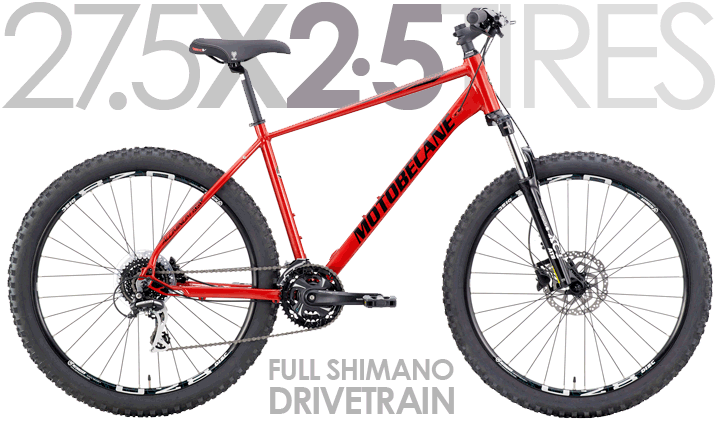 Special BiAxial TopTube Design: Specially shaped, tapered and engineered for strength and performance.
Large Pic of BurntOrange ClickHERE or MatteBlack ClickHERE. Click For> General Sizing Guide | Specs| Geometry


Share this: | Twitter this: | More:
IMPORTANT: READ THIS PRIOR TO ORDERING
Order now for your best deal. Prices may rise when sales goals are met.
The Deal: bikes are available at this special price for limited time. See Pull down menus below. At the special Price, sizes always sell out fast so order now

The Process: When you order, your card is billed for the full amount. You will get an auto-email by the next business day. For example Fri/Sat/Sunday orders get an email on Monday. Weekends/Holidays are not counted as "days".

Your Shipping Address: Please ensure your shipping address is correct when you order. Last minute changes incur delays and/or extra costs. Your address can be changed on the 3rd page of checkout by clicking on "change" beside the address.
Tracking shows movement the following 1-2 business days. Most take 5 to 7 days to arrive by Ground (Not including weekends/holidays) (Specs May Update to Updated parts at no extra charge)
BREAKING NEWS: 1: This is a 2022 bike! 2: Beat the price increase, order now Bike prices will go up in due to increases in parts cost and massive increase in freight charges GOOD NEWS: Buy Now and lock in at that price even if our cost on bikes or transport rises. Lock in the Deal, Order Now. PRICE May Increase Suddenly. Specs may update to 2022 parts at no extra charge
2022 MODEL NOW AVAILABLE
DUE TO POPULARITY THESE SELL OUT RAPIDLY
Get a 2022 Before They Sell Out or Price Increases

FULL SHIMANO, Super Wide Tire 2.5INCH 27.5 / 650B Front Suspension Mountain Bikes

Motobecane
Fantom 2.5
MSRP $1699
NOW $699.95
(Compare $1499-1699)
Signature Required for your protection

FULL SHIMANO 3X8 DRIVETRAIN
Special BiAxial Top Tube Design with
Advanced Hydroformed ALU
Long Travel LockOut Forks
Powerful SHIMANO Hydraulic Disc Brakes

Save up to 60% Off List Prices
Buy Factory Direct from Bikesdirect
Compare to $1900+ Trek, Specialized



Use pull-down below to select size/color. PullDown May Show Sold Out Sizes. Cart Doesn't Reserve Items. Select Size, Then Checkout. Don't See Size/s? Click> Get Restock Emails

We accept Visa/MC/Disc/Amex. PayPal is optional

Price Includes Ground Shipping
to 48 United States
(5 to 7 Day Delivery) (AK/PR/HI addtl charges)
(Email us for Delivery to PO Box/APO/FPO)


Share this: | Twitter this: | More:

Pay with US Issued Visa, MC, Disc, AMEX Cards. Paypal Is Optional
We have sold thousands of Motobecane hardtail mountain bikes. Advanced frame tubing is used on all Motobecane hardtails. Higher level models have even more advanced carbon fiber or geometrically enhanced 3/2.5 Titanium butted frames. Customers who own Motobecanes send friends and family to buy these incredibly capable mountain bikes all the time.
Here is what just a few magazines say:

MOUNTAIN BIKE ACTION
FLY Team 29 Ti XX Edition..."a sight to behold...Motobecane delivers a race-ready bike with the Fly Team 29 Ti XX. ...offers more comfort than almost all aluminum hardtail race bikes and many carbon fiber race bikes. The (10speed) drivetrain is inspiring. And Motobecane put the package together for a great price."
See full review Click HERE
DECLINE MAGAZINE
"The FLY Team(29) swoops around big sweeping, high speed turns like a train on rails and motors across minute trail debris with the same powerful locomotion...The FLY Team(29) seems to go faster and faster...a deal that is hard to pass up, offering a high qualty frame with a rad parts spec."

MOUNTAIN BIKING MAGAZINE
"The FLY 9357 from Motobecane USA is the lightest production hardtail available for under three thousand bucks. The 2.7 pound frame is precision welded from high strength Kinesium aluminum that is 40% stronger than 6061 or 7005 series aluminum."

BIKE MAGAZINE
"This bike is an absolute feather. You can have the lightest bike on the block for about the same price as most people pay for their wheels. The lightweight flyer screams up hills with no hint of bottom bracket flex. How does Motobecane do it?"

MOUNTAIN BIKE ACTION
"One thing is certain; you'll always win in the price department with this incredible deal. The FLY Team makes you feel like a superstar from the git-go. ... simply motors."

MOUNTAIN BIKING MAGAZINE
"FLY TEAM - XC RACE BIKE OF THE YEAR! The more we do the math, the harder it was to believe the price at which the Motobecane package leaves the shop. Performance of the frame and parts spec is on the highest level."
MOUNTAIN BIKE ACTION
"The tight controls and frame angles are so lively it's easy for the rider to find his zone. The FLY rider will have an overwhelming desire to sprint past the front row and take the lead. In or out of the saddle, the 20 pounder retains complete steering precision on ultra steep grades without a hint of bar wagging or oversteering"
MOUNTAIN BIKING MAGAZINE
"The lightest bike that we've tested in the last 2 or 3 years. The FLY 9357 takes you higher, farther and faster than your lactate threshold ever imagined - at a price that isn't too outrageous."
MOUNTAIN BIKING MAGAZINE
"Motobecane has been producing top-notch bikes specific to your needs for decades, and they continue to produce all levels of bikes while remaining focused on the customer. This bike is so light and rigid it seems to pedal itself."
MOUNTAIN BIKE ACTION
"Motobecane's FLY Team Titanium is made from double-butted, multi-shaped 3/2.5 titanium. The finished product is stunning. The frame does a nice job of absorbing the trail chatter, so the rider is not physically punished for the bike's performance."
MOUNTAIN BIKING MAGAZINE
"FAST! That's what all our test riders had to say. This bike climbed like a jet airplane. The FLY is the ideal choice if you're looking an ultra-lightweight hardtail that doubles as a competitive cross country racing machine."

Even when reviewed at list price, magazines feel the Motobecane mountain bikes are incredible values.
When you consider the discount BIKESDIRECT offers on these incredible quality mountain bikes; nothing else comes even close!

Buy one now at a discounted, factory direct price with shipping included to 48 states.

The FLY Team was voted Best XC Race Bike of the Year - The Fantom 2.5 series of bikes are born from the DNA of award winning bikes. Mountain Biking Magazine selected the Motobecane FLY Team over Trek, Specialized and many other brands as the best XC Race Bike of the Year in 2003. Since then Motobecane has constantly refined their bikes to outperform expectations.
Join the 27.5 / 650B Revolution
If you have ridden one you know why you want one. If you have ever wanted to try one, this is the best deal at this price point.

Best of Both Worlds

The 27.5 (aka 650B) mountain bike wheel is in the center. The 26" wheel is on the left and the 29er mountain bike wheel on the right.
Special BiAxial TopTube Design. The top tube is specially shaped and engineered for strength and performance. Only some of the most expensive frames have this special shaped and tapered design.

High end performance without breaking the bank. The awesome parts spec includes a long travel fork with Lockout, high quality FULL SHIMANO 3X8 speed derailleurs and smooth and powerful Hydraulic Disc Brakes.
Advanced Engineered Aluminum Frame:
This frame is best-in-class and one of the best we have seen on most any other mountain bikes selling for at least double our sale price. Features Custom Aluminum Trail-Tuned POWER STAYS, gussetted downtube, sculpted rear dropouts with replaceable rear derailleur hanger.

Fantom 2.5 Sizing Guide
15.5" - 5'5" to 5'9"
17" - 5'10 to 6'0"
19" - 6'0" to 6'2"
21" - 6'2 to 6'6"
This is a general guide, Between sizes? Size down for lower handlebars, more agile handling/ short legs/arms, more straddle room. Size up for taller bars, long legs/arms but you may touch when straddling the bike. Sizing is a personal preference, the final choice is up to you

Frame
Advanced ALUMINUM Butted and Geometric Multishaped tubes with internal cable routing, Special BiAxial TopTube Design: Shaped, tapered and engineered for strength and performance, StealthType Dropper post routing, S-Bend seatstays. HeadTube: ( 50x44mm ) L: 39/43/48/53CM =115/130/155/170mm
Fork
SUNTOUR XCT 27.5, TRAVEL 100mm, Steerer: (1-1/8") CROWN:ALLOY , STANCHION:28mm BLADE: ALLOY, 9mm QR, 160 POST disc mount W/ LOCKOUT ( MAX. TIRE : 27.5x2.50" )
Crankset
SHIMANO TX801, FOR REAR 7/8-SPEED, 175MM, 42X32X22T
Bottom Bracket
FSA 7420ST Cartridge Seal Oversized Bearings, JIS Square, Chromo Spindle, 73mm x 113mm
Pedals
ATB Platform 9/16 axle
Front Derailleur
SHIMANO TOP-SWING DUAL-PULL FOR REAR 7/8-SPEED, BAND TYPE (W/31.8MM ADAPTER)
Rear Derailleur
SHIMANO RD-M360-L, ACERA, SGS 7/8-SPEED
Shifters
SHIMANO SL-M315-L, RAPIDFIRE PLUS W/ OPTICAL GEAR DISPLAY
Cassette
SHIMANO HG31, 8-SPEED, 11-13-15-17-20-23-26-34T
Chain
KMC Z8.1 NARROW CN 1/2x3/32"X110L , GY/GY
Wheelset
RIMS WEINMANN U28 DISC 27.5"/650B ( 584 ) HIGH/INNER WIDTH : 18.3/22.4mm , 14Gx32 hole drilling, Disc Only, Black , Pinned Joint W/SINGLE EYELET W/FV
SPOKE 14Gx64PCS STAINLESS SILVER W/14MM BRASS SILVER NIPPLE
F/HUB SHIMANO FRONT HUB, HB-TX505, 32H OL:100MM, AXLE:108MM, CENTER LOCK ROTOR, QR:133MM
R/HUB SHIMANO FREEHUB, FH-TX505, CENTER LOCK ROTOR, 32H, OL:135MM, AXLE:146MM, QR:170MM
Tires

MTB INNOVA 27.5 X2.50 60TPI , WIREbead

Brakes
SHIMANO MT200

hydraulic

w /RESIN PAD /SHIMANO ROTOR, SM-RT10
Brake Levers
SHIMANO MT200 hydraulic
Headset
FSA Internal/ZS style - OS (1-1/8") W/SEMI-CARTRIDGE BEARINGS
Handlebar
MTB- ALLOY 6061 RISE H/BAR ( 9° ) B/CENTER: 31.8mm.R/W:20/780mm. SS.A BK
Stem
ALLOY 6061 .EXT:(10°)75/90/105 MM FOR 39 / 43-48/ 53CM, C/S:31.8x28.6x41mm
Tape/Grip
VELO DOUBLE DENSITY GRIP L:130mmx7/8" KRATON BLK/GEL BLK
Saddle
VELO MTB OR WTB Black vinyl, Black corners (No choice due to supply chain issues)
Seat Post
6061 ALLOY SS.A.BK S/POST W/ALLOY ED BLK HEAD , 27.2 X 400MM
Seat Post Clamp
Super Light Aluminum
Sizes
as listed in pull down
Colors
as listed in pull down

Bikesdirect Saves You Thousands Compared to other Similarly equipped Mountain Bikes at $2,000 to $3,000

PRICE INCLUDES GROUND TO 48 US
SENT SIGNATURE REQUIRED FOR YOUR PROTECTION

Bikes come up to 90 percent assembled. We suggest you take it to your local bike shop for final assembly & safety checks.

Fantom 2.5 Geometry Chart (Back to Top Of Page Click Here)