Wheel Front+Rear Sets,

List $169-$229

| Incredible SALE As Low As $119 + FREEShip48*
We are selling these as promo to new customers and service to our many repeat customers. Pics/Specs are as shown

Wheels (no tires/no tubes)

List $169

NOW $119.95 or
WheelSETS (with tires+tubes)

List $229

NOW $149.95
What's the difference between Wheels or WheelSETS?
WheelSETS $149.95 : FRONT AND REAR Wheel WITH mounted TIRES and Tubes
Wheels $119.95 : FRONT AND REAR Wheel ONLY (NO Tires, NO Tubes)

Will you restock? A: Deals are restocked often. Sign up for Deals and Restock Emails At THIS Link. Sale Prices Not Applicable to Previous Orders
Scroll down to shop NOTE: Refresh Browser as pages may update including this page. SALES MAY END SUDDENLY
MTB 26" BaseCamp V7
Axle/Spacing: QR FR100mm, BOLT RR135mm
RearHub: Threaded 6/7/8spd
Rim/Spoke: ALU RimBrake/BlackSteel

Cruiser 26" Toucan
Axle/Spacing:BOLTFR100mm, BOLTRR135mm
RearHub: CoasterBrake 1spd
Rim/Spoke: ALU RimBrake/BlackSteel

Hybrid 700c Swift 7
Axle/Spacing: QR FR100mm, QR RR135mm
RearHub: Threaded 7/8spd
Rim/Spoke: ALU RimBrake/CPSteel

MTB 27.5" XRod8
Axle/Spacing: QR FR100mm, QR RR135mm
RearHub: FreeHub 7/8spd
Rim/Spoke: ALU DISC Brake /BlackSteel

Hybrid 700c CafeDisc PRO
Axle/Spacing: QR FR100mm, QR RR135mm
RearHub: FreeHub 7/8/9spd
Rim/Spoke: ALU DISC /RimBrake/BlackSteel

Hybrid 700c CafeLatte
Axle/Spacing: QR FR100mm, QR RR135mm
RearHub: FreeHub 7/8spd
Rim/Spoke: ALU RimBrake/CPSteel

FatBike 26" BullsEyeMonster
Axle/Spacing: QR FR135mm, QR RR170mm
RearHub: FreeHub 7/8spd
Rim/Spoke: SV, ALU DISCBrake/BlackSteel

MTB 26" FSXHD1
Axle/Spacing: QR FR100mm, QR RR135mm
RearHub: FreeHub 7/8spd
Rim/Spoke: ALU DISC/RimBrake/BlackSteel

MTB 29" FSXHD29
Axle/Spacing: QR FR100mm, QR RR135mm
RearHub: FreeHub 7/8/9spd
Rim/Spoke: Presta ALU DISCBrake/BlackSteel

Gravel/CX 700c Liberty CXD
Axle/Spacing: QR FR100mm, QR RR135mm
RearHub: FreeHub 7/8/9spd
Rim/Spoke: Presta, ALU RIMBrake/Steel

MORE WHEEL DEALS
Coming Soon: Watch This Page
Get Exclusive Deals Straight to your Inbox.
Sign Up Now: At THIS Link


WheelSETS $149.95 : FR+RR+TIRES/Tubes
Wheels $119.95 : FR+RR (NO TIRES/NO Tubes)

MORE WHEEL DEALS
Coming Soon: Watch This Page
Get Exclusive Deals Straight to your Inbox.
Sign Up Now: At THIS Link


WheelSETS $149.95 : FR+RR+TIRES/Tubes
Wheels $119.95 : FR+RR (NO TIRES/NO Tubes)

Shipping Schedule
NOTE: Purchase NOW to secure your best deal. These are Shipping Now. Please do not re-sell as that would cause too much disruption to the dealer network. We hope you understand, this type of deal almost never occurs. REMEMBER, you are paying less than what dealers were paying in early July.
Methods of Shipment
*Bikes are shipped with Signature required to protect ones purchase. Ground is the only level of service available. No other options are available. Expedited Shipping is not available. *Shipping via Ground to Lower 48 States included in bike prices.
Signature Required
We ship with signature required to protect your purchase. If someone is not available to sign, will make three attempts to deliver. Each time, leaves a note so customers can make other arrangements. If the shipment is returned, customers are responsible for a nominal re-shipment cost.
Physical Address Required for Bicycles / Large Items
We ship bicycles only to physical street addresses. We don't ship Bicycles to PO Boxes. Please contact us with your physical street or work address.
Transit Times
Most orders arrive in 3 to 7 business days transit time. It takes 1 to 2 days for order processing. This is a possible total of up to 10 days. These times are not guaranteed nor refundable if delays occur. Shipping times Do not count weekends or holidays as business days. Please be aware that Weather and other conditions beyond our control may also cause delays. Changes made to orders in transit may incur additional charges or may not be possible.
Have more questions? - Please E-mail us for a quote and procedure At THIS Link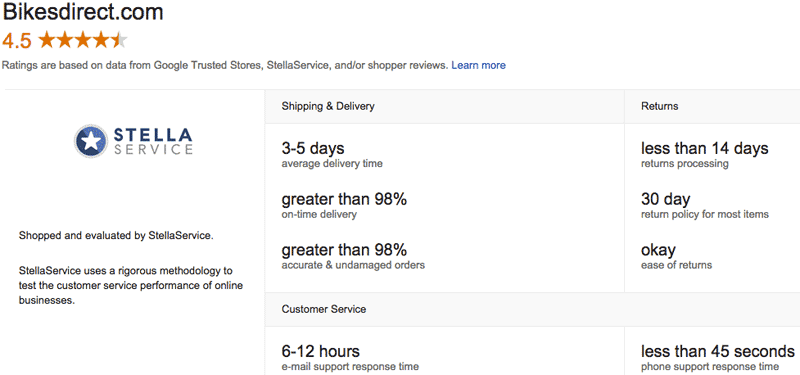 ---
BikesDirect.com Is Top Rated By Customers On BizRate
BikesDirect.com is Customer Certified by BizRate

Thousands and thousands of happy customers love Bikesdirect.com on BizRate.

Go Through The Link in the BizRate Certified banner to the right. See reviews from real customers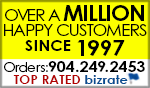 ---
BikesDirect.com Is A+ Rated By Customers On BBB
---