UPGRADED WITH XTL Brake Lever Tech!
LTD QTYS of these Super Commuter Touring / Fitness Flatbar

bikes


Windsor Tourist XTL DropBar, Advanced Aluminum Touring/Commuter Bikes
with CrMo Forks, FULL SHIMANO 3X7Speed + Powerful Disc Brakes,
PunctureGuard/ Reflective SideWall Tires

Click to see enlarged photo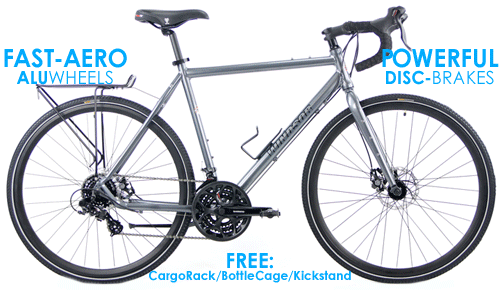 Tourist DropBar (Comes in Three Colors)
NOTE: Some parts may update to newest 2023/2024 (no extra charge)
Special Hydroformed ALU RearStay Design: Specially shaped, tapered and engineered for Comfort, strength and performance.
Click For> General Sizing Guide | Specs| Geometry | Gallery Pics
Share this: | Twitter this: | More:
NEW Windsor Tourist XTL FEATURES FOR COMMUTING ARE INSANE:
Light and durable 6061 aluminum frame with lots of versatile braze-ons
Strong soft riding Cro-Mo fork with three sets of brazeons
Shimano crank and shifters and freewheel with wide 21speed gearing
Tektro road / touring designed powerful disc brakes
High Flange Formula hubs designed for long distance use
Aero aluminum V-rims with cnc sides and durable double wall construction
Durable smooth riding tires w/Puncture Guard to reduce flats, reflective side walls to increase visibility, p
Plus extra comfortable WTB saddle

BONUS FREE: REAR CARGO RACK [$50 Value], ALLOY WATER BOTTLE HOLDER [$10 Value] PLUS ALUMINUM KICKSTAND [$15 Value]
IMPORTANT: READ THIS PRIOR TO ORDERING

The Process: When you order, your card will be billed for the full amount. You'll get an auto-email the next business day. Fri. Sat. Sunday orders get emails on Monday. Weekends/Holidays are not counted as "days".
Your Shipping Address: Please ensure it's correct. Last minute changes incur delays and/or extra costs. Shipping address can be changed on the 3rd page of checkout. Click on "change" beside the address. Tracking shows movement in 2-3 business days. Then, most take 5 to 7 days to arrive by Ground (Not inc. Weekends/holidays) (Specs May Update to Newest 2023 parts at no extra charge)
Windsor Tourist XTL Bikes: Compare $1699-1799 | SALE ONLY $649.95
WELL EQUIPPED with NEW XTL Brake Lever Technology For 2023:
EXTRA Levers Mounted Left And Right Of Stem = Easier+Quicker Braking
NORMALLY ~$120 to $150 UpCharge In Shops (See video, Click HERE)

Real Rider Quotes About XTL / Cross Top Levers:
"...on the bar top in traffic and hazardous situations and they really come in handy"
"I love them. I'm really glad they came with the bike"
" they're great. I have brakes at my fingertips no matter where my hands are"
"...easier to apply when stopped with one leg off the bike"
The Deal: See Pull down menus below. Warning: bikes always sell out fast so order now *Order now to lock in your sale price and selection. Price Rises As Sales Goals are Met.
This Bike Features NEW XTL Technology For 2023: Click the Video Below to Play
UPGRADED WITH XTL Brake Lever Tech! FULL SHIMANO 3X7Spd, Super Commuter/Touring Light/Strong ALU Bikes

2023 Windsor
Tourist XTL DropBar
MSRP $1699 SALE $649.95
(Compare $1699-1799)
Ships Signature Required

PunctureGUARD /ReflectiveSW Tires
FREE REAR RACK ($50 Worth)
FREE BOTTLE CAGE ($10 Worth)
FREE KICKSTANDS ($15 Worth)
FULL SHIMANO 3X7 DRIVETRAIN
Advanced Hydroformed AL Rear
Triple Mount CrMo Forks
Powerful Disc Brakes

Save up to 60% Off List Prices
Buy Factory Direct from Bikesdirect


Compare to $1499+ Trek, Specialized


Use pull-down below to select size/color. PullDown May Show Sold Out Sizes. Cart Doesn't Reserve Items. Select Size, Then Checkout. Don't See Size/s? Click> Get Restock Emails

We accept Visa/MC/Disc/Amex. PayPal is optional

Price Includes Ground Shipping
to 48 United States
(5 to 7 Day Delivery) (AK/PR/HI addtl charges)
(Email us for Delivery to PO Box/APO/FPO)


Share this: | Twitter this: | More:

Pay with US Issued Visa, MC, Disc, AMEX Cards. Paypal Is Optional

Well Designed and Proven - There are only a few good choices when buying a high grade touring bike Trek 520, Windsor Tourist XTL, Co-Motion Nor'Wester, Rivendell Atlantis, and so on. These bikes are all high grade touring specific bikes that have many features in common - including price tags well over $1200. Windsor's product engineers designed this bike for comfortable loaded commuting or touring. The angles of the light/strong Aluminum frame are relaxed for stability, the wheelbase is long, the clearances around the wheels sufficient for fat, sturdy tires up to 42c.
Special Hydroformed ALU Design. The rear stays are specially shaped and engineered for strength and performance. Only some of the most expensive frames have this special shaped and tapered design. Top tube has Custom BENTO Box braze ons. (Box not included)

Tourist Sizing Guide
49cm - fits most 4'11" to 5'2"
52cm - fits most 5'3" to 5'5"
54cm - fits most 5'6" to 5'8"
56cm - fits most 5'9" to 5'11"
58cm - fits most 6' to 6'2"
61cm - fits most 6'2" to 6'4"
This is a general guide, Between sizes? Size down for lower handlebars, more agile handling/ short legs/arms, more straddle room. Size up for taller bars, long legs/arms but you may touch when straddling the bike. Sizing is a personal preference, the final choice is up to you
Frame
Advanced ALUMINUM 700Cx49/52/54/56/58/61 CM, ALLOY 6061 FOR MAX42C TIRE
T/T-35MM, S/T-31.8MM, D/T-44MM, With Special Hydroformed ALU RearStay Design: Shaped, tapered and engineered for strength and performance, Custom Bento Box top tube mount (Box not included)
Fork
CrMO 700C STRAIGHTBladed Fork W/3 SETS OF BRAZE-ONS
Crankset
SHIMANO FC-A073 30/39/50T 170MM ALLOY BLACK
Bottom Bracket
VP-BC73 Cartridge Sealed, JIS Square Spindle
Pedals
VP-990S PP BLACK BODY, STEEL BLACK CAGE, 9/16 axle
Front Derailleur
SHIMANO FD-TY510T
Rear Derailleur
SHIMANO RD-TY500D BLACK
Shifters
FB Model: SHIMANO ST-EF41 21-SP
DropBar Model: SHIMANO ST-A073LIX/ST-A070RIX 21-SPD
Gears
SHIMANO CS-HG20 12-32T-7spd
Chain
KMC Z-7 GY/BR
Wheelset
RIM : 700x14Gx32H HJC DA-300D DOUBLE WALL, ALLOY BLACK
F/HUB : FORMULA DC19 ALLOY BLACK W/QR.
R/HUB : FORMULA DC27A ALLOY BLACK W/QR.
SPOKE : 14G STEEL BLACK W/BRASS NIPPLE.
Tires

Due to Supply Chain Updates: Alternate Tire or Kenda 700x38C BLACK REFLECTIVE SideWall And PUNCTUREGUARD K-184 A/V

Brakes
TEKTRO DISC BRAKE W/160MM ROTOR
Brake Levers
SHIMANO ST-A070
Headset
VP-A01EL BLACK W/M-53D ALLOY BLACK TOP CAP
Handlebar
DROPBAR XTL Model: Aluminum Alloy 31.8MM W:400MM (49~52CM) /420MM (54~56CM) /440MM(58~61CM)
Stem

DropBar Model: ALLOY 6061 EXT:60MM(49-52)/75MM(54-56)/90MM(58-61)x-6 Degrees
Tape/Grip

DropBar Model: SynthCork Wrap

Saddle
Due to Supply Chain Updates: VELO OR WTB SPEED V SPORT SE, BLACK PADDED
Seat Post
6061 ALLOY SS.A.BK S/POST W/ALLOY ED BLK HEAD, 27.2 X 400MM
Seat Post Clamp
Super Light Aluminum QR
Sizes
as listed in pull down
Colors
as listed in pull down

Bikesdirect Saves You Thousands Compared to other Touring/Super Commuter Bikes at $1200+


PRICE INCLUDES GROUND TO 48 US
SENT SIGNATURE REQUIRED FOR YOUR PROTECTION

Bikes come up to 90 percent assembled. We suggest you take it to your local bike shop for final assembly & safety checks.
Tourist Geometry Chart (Back to Top Of Page Click Here)